The story behind the story...Our Authors
Speak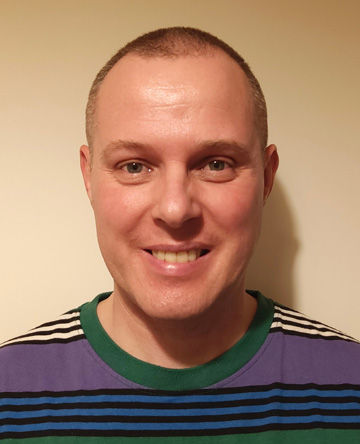 Edward Ghent
To onlookers, Edward Ghent looks like someone sitting at the kitchen table writing. They'd never know how busy his mind is. It's been like that since his childhood, spent in a small village surrounded by open fields and small wooded areas which you'd find hard to place on a map.
Edward started writing fantasy adventure stories when he was thirteen-years-old, using them as a form of escape from the bullying he experienced at school. They fed his longing for real world adventures and that took him to South Korea, where his love for life, gave him the peace to bring Hope in Strange Places to life. It started off as an idea that popped into his head while he was studying Law late at night, but quickly began to leap onto the pages as he walked in Mike's sandals through wonderfully strange places.
George Giokas
George Giokas knows how to write a story, how to run a business and how to be Greek—very Greek.
After spending more hours in the college newspaper office than the classroom in the 1970s, he earned a position reporting for the White Plains Reporter Dispatch which eventually landed him a job at Newsday on Long Island where he worked his way up to a top executive editor position.
In 1989, answering a call to return to grassroots journalism, he started a small weekly paper, called the Keystone Gazette, in the hills of Central Pennsylvania. Eventually, he missed everything about New York, moved back, and took another top position at Newsday. That went well until New York Newsday, Newsday's sister paper in Manhattan, folded like a tent in 1995. Seeing the opportunity to once again try his hand at entrepreneurship, he took a buyout from Newsday and launched StaffWriters Plus, Inc., an agency that matches writers and editors to companies in need of their services. He also continued writing, penning columns for Newsday called "Small Talk" and "Dear Diary" for BusinessWeek Online. He shared his own humorous stories of running a business, and enjoyed a following of empathetic business owners.
In 2001, Giokas turned his sights on yet another venture, combining his journalism and business experience. That led to the creation, (along with some old friends as business partners), of HealthDay, which is now the largest consumer health news service in the country. Giokas serves as Chairman of the Board and Executive Editor of its Custom Content Division.
Over the span of his career, Giokas has been honored with the International Association of Business Communicators (IABC) Media Leadership Award in 2000, the Long Island Business News' Fifty Around Fifty Award in 2009, and the IABC Community Service Award in 2010 for his professional contributions to the community. Giokas has also served on the board and is a founding member of the Long Island Software & Technology Network, a founding member of the Strictly Students Film Festival and has also volunteered his time with Big Brothers Big Sisters of Long Island and the Fair Media Council.
He is an Adjunct Professor of Journalism at the State University of New York at Stony Brook, and has also been involved in leading communications and journalism workshops for scientists at the Alan Alda Center for Communicating Science at Stony Brook.
Giokas attended a small private Greek school tucked away in the South Bronx, where he wrote short stories, recited epic poems in Ancient Greek before large audiences and on Greek radio, and always made time for punch ball and ice cream. He also honed his fascination with the weather by creating, to his knowledge, the first 10-day forecast while gazing out the window and observing the sky when his teachers weren't looking. To this day, Giokas is fluent in Greek because of this early education but also because of the real possibility that he would receive no dinner at home if Greek wasn't spoken.
He went on to graduate from Brooklyn Technical High School, Long Island University in Brooklyn, NY, and the advanced screenwriting program of UCLA's School of Theater, Film & Television. Giokas has also written several screenplays, some of which he has pitched to film producers in Los Angeles.
He and his wife, Debra, live in a small town on Long Island with their dog, Bella, where Giokas enjoys gardening and cooking when he's not watching the NY Mets. He wrote his first novel, Nickel Ice, over a three-year period, sometimes gazing out the window for hours, wondering what the weather would be like in the days ahead.
Tonya Coffey
I grew up on a farm surrounded by sheep, pigs, cows and horses. There was a place I loved to spend my days. Where the pond and a section of woods meet at the bottom of two pastures. It was an oasis for me. My own hidden world in the middle of the farm.
Growing up as the youngest daughter of four, I was left to entertain myself. My mom was a beautician and my dad a masonry. In the summer, I spent all my time climbing trees next to the pond, camping and sitting by the water.
I always had an imagination. I would come up with stories using the animals on the farm and the forest around me. The first time I wrote a story, I had lost my dog and I wrote about him, telling how I felt and how he was taken from me. My mom put it in the local newspaper and encouraged me to write more.
When I was twelve I fell in love with painting. I watched Bob Ross and quickly became engrossed in all things that had to do with a canvas and a paint brush. I painted the landscape around my home and some places I hoped to see one day.
Even though I didn't write as much, I did make my own books. I drew pictures that went along with each story. The one that I remember the most was about a girl who climbed a mountain to save a baby wolf. I was proud of the story.
When I got married and had my boys, I continued to write and dabbled with more stories and ideas. I actually had a dream about a yellow lady slipper and that was the inspiration for my first book, Harvest Moon, and future books in the series.
I wanted to incorporate places around my home and add them in the books because I love the county that I grew up in. It is an amazing place and I want to share it with others.
Each day, my husband and my boys give me the support I need to keep writing, wanting me to share my imagination with others. I love telling them about my crazy dreams and listen to theirs. They are my inspiration.
My youngest son was looking out the window one day as we were heading to a favorite outdoor outing. He laughed and said, "What if ants flew around in birds like planes." We all laughed and talked about the idea and that was when I decided to write Birdplane. It was a cute story for young readers published in KIT magazine in April of 2015.
I don't plan on giving up my dream of becoming a star like Michelle Reed, the author of Vampire Academy series or Lili St. Crow, author of Strange Angels series - to mention a few great authors. Their stories encourage strong women characters and show passion with each word. I want that. I want others to read my books and feel as if they are standing next to the person they are reading about, crying with them, running, and fighting. That's the passion I want others to read when they pick up my book.
Travis Mewhirter, Sports writer
Sportswriters, despite all of our incessant grumblings about too much work for too little pay and brutal hours and weekends and holidays consistently being stolen from us in the name of football or basketball or baseball, live a life of luxury.
I'm not talking beach houses and Beamers, fine steaks and ritzy hotels. No, I'm talking, quite simply, about life. We have a job that everybody secretly covets, though few have the fortitude to actually pursue.
Because this is our day, right? We wake up at essentially whatever hour we choose, head into work in the afternoon — and many of us don't head in at all, rather work from our couches with our dogs, in sweatpants and t-shirts — watch a game or two, write a few words, punch out. Paycheck, please.
And then our buddies see those paychecks, and they instantly recoil. Despite this, I can tell you one thing with absolute, unequivocal certainty: Every single one of my friends is jealous.
They are jealous that I get to wake up, legitimately thrilled to go to work. They are jealous that I come home close to midnight more often than not, and I won't shut up about the game I just covered, or the story I wrote, or the kind email that I received from a parent who just ordered 30 extra copies of the centerpiece on her kid. They are jealous that I get paid to watch football, or basketball, and that I regularly meet athletes most would die just to shake hands with.
Because here's the thing about journalism, particularly sports journalism: We get paid to do what others would pay to do. Tickets for a college football game run well into triple-digits. Not only do we get access to that game for free, often with incredible seats and unlimited food and (mostly) non-alcoholic drinks, but we receive American dollars for attending.
If you ask me, I have not worked a single day in my 25 years on this Earth. Not one. Sure, we're not required to go into work until the afternoons, but I'm up before 7 most mornings, reading Sports Illustrated, ESPN, the Washington Post, Yahoo! Sports, the New York Times and Orange County Register for two hours.
And then all that reading gets me in the mood to write. So what do I do but sit down and write, usually for another hour or so. This habit began in college, at the University of Maryland, on the mornings that I didn't need Gatorade and a handful of Advil to survive until noon.
Soon, though, I began to focus this writing. I crafted an outline and storyline, characters and a plot. Two years later, I had a rough copy of a book I had no idea what to do with. Seriously, though, when I pounded that keyboard with the final period, I looked at my girlfriend and said, "Uhh…what do I do now?"
It didn't take me long to instantly regret ever writing the stupid thing, for I soon found out that getting a book published is about as easy as flossing a hammerhead. You need it self-edited, which is a several month process. And then you need it professionally edited, which could take close to a year. And then you need to find an agent, and eventually you will, after a few hundred rejections, if you're lucky. And then that agent needs to find a publisher, and he will, after a few hundred more rejections, if he's lucky. It's depressing and discouraging and dejecting and wonderful, for it makes the final product all the more satisfying.
You can look on Amazon and say "Hey! I wrote that thing people are buying and rating!" And you can come home for a wedding, and most of the attendees will talk to you about your book, and they'll be genuine when they say they read it in one sitting, because their girlfriend will roll her eyes in confirmation.
Everybody has their tics, their routines they can't live without. To some, this is the gym. Others, cooking. Others, video games. Mine is reading, which in turn leads to writing. I get lost in my own pages, because I have a rather unique writing style when it comes to books. I don't plan out every detail or twist, I simply write. I don't know exactly what's going to happen until my fingers make it happen.
Book number two is on the way, with the initial draft finished. So it's now onto editing, and editing, and editing and then, somewhere in the hopefully not too distant future, publishing.
There will be a third book, and probably a fourth. I don't know what the plot or sport will be. I'm just going to sit down and do what I love most: write.
I'm Fran Orenstein, Ed.D., and I'm very pleased to meet you all.
We live in a scary world, using books to escape and learn. I also live in a world filled with words, ideas, and imagination that come together as stories, books and poetry. If you know New York City, it all began on a dark Halloween night in Brooklyn, the home of Nathan's hot dogs, then the Bronx, NY, home of the New York Yankees, then back to Brooklyn, yes, back across the Brooklyn Bridge.
Here's a fun fact about me. At eleven, I was outside alone after dinner in the field by my aunt's place in the Catskill Mountains where we spent every summer. I was swinging on a swing hanging from the ghost tree looking up at the darkening sky, when a UFO (an honest to goodness flying saucer, flickering lights and all) paused overhead for at least a minute and then moved on across the mountain. I didn't blink an eye, or tell anyone, (nobody would have believed me anyway). I just kept swinging. Oh, I may have waved good-bye. I've been told I come from another planet, so maybe they were checking on me.
My mother was an avid reader and an amazing story teller. She could take an ordinary fairy tale and turn it into a brand new story, sometimes terrifyingly realistic. As a result, I grew up in libraries, where my mother went two to three times a week to check out books. I developed a love of mysteries from age seven, when I encountered the Bobbsey Twins, then Nancy Drew. After reading Bambi by Felix Salton at age eight. I was so moved that I wrote a poem, which I still have, as my mother kept everything I ever wrote, including tiny books and poems that I used to staple together. At seven, my favorite non-mystery series was the Little House on the Prairie. My favorite childhood book of all time was The Secret Garden. As a teen I read sci fi, Heinlen, Assimov, Bradbury, but still into mysteries. Later I ventured into horror, thrillers and international/courtroom intrigue. I sent my first short story to a magazine at twelve, no comment.
After a brief spell as an early childhood teacher then full-time mother (still reading 2-4 books a week). I was an editor/writer for three national career education magazines, and then spent 22 years working for New Jersey State Government in a variety of positions. These included rehabilitation counselor, manager of women's programs including writing policy and legislation, developing programs in child care, gender equity, and creator of The NJ Coalition on Women and Disabilities. Prior to retirement, I served as Special Projects and Disability Officer for AmeriCorps. During these years I wrote and published academically and professionally, including articles, newsletters, political speeches, brochures, papers, and presentations at national and international conferences on gender equity and violence prevention.
My degrees, BA from Brooklyn College in Early Childhood Education, MEd in Counseling Psychology from the College of New Jersey, and EdD in Child and Youth Studies from Nova Southeastern University have all served to add knowledge to my academic, professional and now fiction writing.
My favorite age group to write for (I know, it's a dangling participle) is 'tweens and teens because they have so many things going on in their lives. Knowing my books may contribute to help young readers get through these years in a happy way is very satisfying. From navigating seventh grade, self-image and bullying in Fat Girls From Outer Space, to The Shadow Boy Mystery Series: Mystery Under Third Base, Mystery of the Green Goblin, and coming in November 2015, Mystery of the Stolen Painting (Saguaro Books) all dealing with middle school angst and personal issues. You might also come to believe in angels. Girls and Boys can relate to the antics of these kids and how they overcome the painful things facing them during this time. By the way, Fat Girls is also a fun graphic novel.
For those eight to eleven who like a good kids' book series, check out One Amber Too Many and Amber and The Magic Whipped-Cream Dress (World Castle Publishing). Feisty Gillian, age nine wants to get rid of her future step-mother, Amber, but everything she tries backfires, until she learns an important lesson. (Sorry, you have to read the books).
I also love writing fantasy because, as a writer, you can do almost anything and get away with it. The Book of Mysteries (World Castle Publishing) is a trilogy of three fantasy adventure novels that older 'tweens and younger teens will love. Two boys from New York City find a disappearing bookstore and are transported through a mysterious book to fantasy worlds where they have to fulfill a quest in order to return home. They are faced with wizards, dragons, gargoyles, witches, and mythological beasts, but then there are also the cute girls. Oh and the weird bookseller turns out to be…well I won't give it all away.
My teen historical novels from Saguaro Books, The Calling of the Flute, set in Lithuania in 1898, and The Spice Trader's Daughter set in France and Prussia from 1685 to 1702 bring older 'tweens and younger teens (oh and adults like them, too) back into times and places when the world was a very different and dangerous place, especially for girls who had no power over their lives. Learn about Russian Czar Alexander and meet France's King Louis the Fourteenth in these teen romantic adventures.
Poetry has always been a part of my life, both reading and writing. Two poetry books were recently released by Aquitaine Ltd. First Footprints follows a girl into womanhood from New York to new adventures. Winding Ways continues the woman's journey through middle age to elder years. There is something for everyone to connect with in these books, and if you're a New Yorker by birth or by heart, you'll appreciate the locations.
Finally, I also write for adults, both mysteries, contemporary (Murder in Duplicate) and historical (Death in D Minor) and Gaia's Gift, a contemporary story of love, loss, and redemption. (World Castle Publishing) For those short story readers and anyone who loves the horror genre, read Danse Macabre a new release from World Castle Publishing. Ten short stories to get you through a dark and dismal thunderstorm, or maybe not if there's a resident ghost in your home.
So ends my tale. Happy to have met you all and I hope you come visit me at www.franorenstein.com
Also, check out the book reviews on Amazon.com.